Mend Mariwany and Nehal El-Hadi, The Conversation
On March 19, 2003, the United States led an unlawful invasion into Iraq — at the time, the reason given was the search for weapons of mass destruction. The U.S. occupation of Iraq lasted over eight years, until the official withdrawal of troops throughout 2011.
While the number of deaths as a result of the U.S.-led occupation of Iraq has been difficult to accurately calculate, it is estimated that around 405,000 deaths occurred as a direct result. Most of these deaths were of Iraqi civilians. Hundreds of thousands of others were injured, and over nine million displaced.
Initially, this was due to the U.S. invasion, then as a result of continued conflict due to the sectarian violence that followed between 2006 and 2010, and finally because of the Islamic State group's occupation in parts of the country from 2013-17.
In this episode of The Conversation Weekly, we speak to two researchers who examine the impact the invasion and conflict have had on the lives of Iraqis.
Sana Murrani Associate Professor in Spatial Practice and Deputy Director for the Doctoral College for the Arts, Humanities and Business at the University of Plymouth, United Kingdom. Originally from Baghdad, Murrani fled Iraq shortly after the 2003 U.S.-led invasion. As part of her research, she has focused on how people cope with the traumatic effects of war.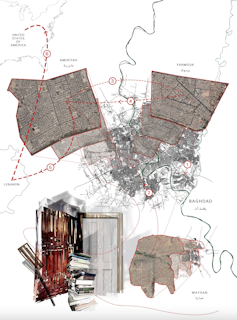 "Iraqis wake up to a very different landscape every single day," she points out. "And they engaged with that landscape to have to go to work, to school."
Murrani interviewed 15 people across Iraq about their lives since the U.S. invasion. These collected narratives will be published in a forthcoming book and featured (Bloomsbury, 2024) in an upcoming exhibition. Ruptured Domesticity: A visual narrative of domestic responses to war in Iraq will be on display at the London School of Economics in the U.K.
For the exhibition, Murrani created collages and maps to visualize the stories of the people she interviewed, which will also be accessible virtually.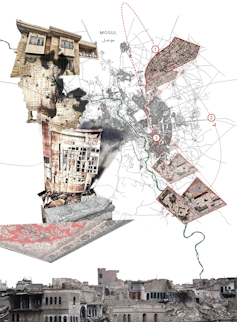 "I think these stories and memories and traumas that have certainly only appeared for a very brief moment under the spotlight," Murrani explains. "And I'm thinking that this will bring back a focus on Iraq for a bit, for people to understand what has become of a country after 20 years of invasion and traumas."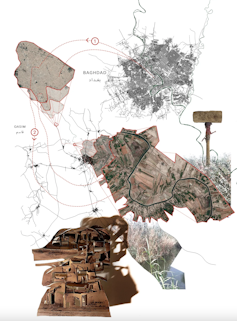 Inna Rudolf is a senior research fellow at the International Centre for the Study of Radicalisation and a postdoctoral research fellow at the Centre for the Study of Divided Societies, King's College London in the U.K. As part of her research, Rudolf has conducted interviews with Iraqis to understand how contested narratives surrounding decades of conflict have impacted the memory of various communities and their identities.
"What we found out that in order for projects to contribute to social and psychological healing, they need to bring individuals together, and to create a context in which these individuals can perceive each other as humans again. Iraqis from different communities need to recognise that they were all affected by the violence and that each group carries its own scars, which need time and conditions to heal."
Rudolf says that once the people recognize each other's pain, Iraqis can begin to heal their communities and their country.
"Each community wants its own victimhood to be heard, understood and acknowledged. And the more they feel that they are pushed into one category, or that their own suffering is not being taken seriously either by their counterparts, by their co-nationals or by the Iraqi government, the more feelings of alienation are likely to prevail over feelings of belonging to the state as equal citizens."
Many Iraqis want to be able to move on in order to contribute in meaningful ways to their society and actively shape their future, as Rudolf found out.
Listen to the full episode of The Conversation Weekly to find out more.
---
This episode of The Conversation Weekly was produced and written by Mend Mariwany, who is also the show's executive producer. Sound design is by Eloise Stevens, and our theme music is by Neeta Sarl.
You can find us on Twitter @TC_Audio, on Instagram at theconversationdotcom or via email. You can also subscribe The Conversation's free daily email here.
Listen to "The Conversation Weekly" via any of the apps listed above, download it directly via our RSS feed or find out how else to listen here.
Mend Mariwany, Producer, The Conversation Weekly and Nehal El-Hadi, Science + Technology Editor & Co-Host of The Conversation Weekly Podcast, The Conversation
This article is republished from The Conversation under a Creative Commons license. Read the original article.