By Samuel Woodhams | Digital rights researcher and journalist
Last week, WhatsApp announced a new proxy support feature that will help people stay connected during internet disruptions. The app is often targeted by government censors because messages on the end-to-end encrypted service can't be intercepted, enabling people to organise protests and share critical information in private.

Last year alone, the app was blocked in Russia, Iran and Sri Lanka during periods of unrest.
WhatsApp's new feature will help users connect to the app via proxies run by volunteers and organisations. Proxies disguise someone's internet traffic by rerouting it via an intermediary – the proxy server – before connecting to a website or app. This obscures WhatsApp's blocked IP addresses from a country's monitoring and censorship systems.
In September, Signal launched a similar feature. It asked volunteers to promote their proxies on social media with the hashtag #IRanASignalProxy but warned against publicly sharing the associated IP addresses, lest they also ended up being blocked by authorities.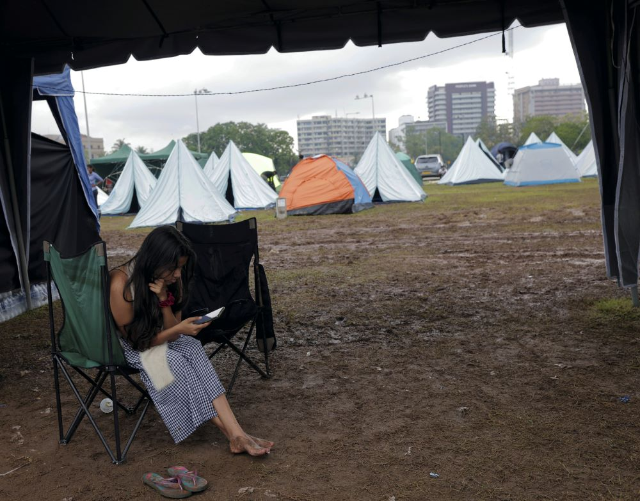 A demonstrator checks her mobile phone inside a tent at a protest area, dubbed the Gota-Go village, where people are gathering in opposition to Sri Lanka's President Gotabaya Rajapaksa near the Presidential Secretariat, amid the country's economic crisis, in Colombo, Sri Lanka, April 12, 2022. REUTERS/Dinuka Liyanawatte
Cat and mouse game
The battle between censorship and circumvention technology goes back to at least 2011, when activists in Egypt used dial-up modems, Tor and the Speak2Tweet service to ensure their voices could still be heard abroad.
Since then, the same dynamic has played out time and time again: an app or website is blocked, people scramble to find a way around the restrictions, then authorities try to restrict the circumvention methods. Once one method has been successfully shut down, people develop another technique, and the cycle continues.
It's often a hugely unequal fight between well-resourced, technically advanced governments and volunteers, protesters and developers. However, if more multinationals like Meta get on board, this resource gap could be significantly narrowed.
Recently, VPN apps, bluetooth-enabled mesh networks, and Tor's snowflake proxy have also proved hugely important tools in the fight against repressive digital censorship. Unfortunately though, each has its limitations and relies heavily on external support.
A protester flashes a victory sign in front of a line of army soldiers near the cabinet in Cairo December 16, 2011. REUTERS/Asmaa Waguih
Circumvention tools
Tools designed to circumvent restrictions and evade surveillance often face backlash from authorities. In Iran, for example, the government recently said it would take legal action against "unauthorised sellers of VPNs and circumvention tools" after a huge number of people turned to the technology during recent protests, while several VPN providers left India after authorities said last year that the firms must retain user data and IP addresses for up to five years.
Additionally, many of the most effective circumvention tools require a high degree of technical knowledge which makes them difficult for most people to use. They also require significant upkeep, and a lot of the most popular tools simply don't live up to their promise of providing secure, anonymous web browsing.
This means that educating people and preparing before restrictions are imposed is crucial for censorship circumvention efforts. So too is ensuring developers have access to the funds required to build and maintain apps that follow best practices.
Last year, the U.S. government did exactly that and increased funding to three VPN companies to accommodate the influx of users that emerged following heightened censorship in Russia.
A police motorcycle burns during a protest over the death of Mahsa Amini, a woman who died after being arrested by the Islamic republic's "morality police", in Tehran, Iran September 19, 2022. WANA (West Asia News Agency) via REUTERS
Analogue solutions?
Traditional forms of communication are often overlooked when discussing solutions to digital restrictions. But details of protests and other civic actions are still regularly spread via in-person meetings, pamphlets and landline connections around the world.
In many regions with unstable internet connections, it's also possible to access digital content downloaded onto USB drives via informal marketplaces. The original data is either accessed by someone locally with a working internet connection or transferred across state borders on large hard drives.
These forms of communication obviously have their risks, particularly in contexts in which the police act with impunity and the general dissemination of information is restricted. And they'll never be able to replicate the reach the internet affords activists and protesters.
But they remain a crucial way of orchestrating demonstrations and advancing democratic freedoms around the world.
The battle between censors and citizens is not static and, as repressive governments acquire increasingly sophisticated surveillance and censorship equipment, citizens will require increasingly advanced circumvention technology.
So, while increased funding from governments and companies is undoubtedly a welcome step, for it to be truly effective their efforts must be sustained, holistic and unwavering.
Any views expressed in this newsletter are those of the author and not of Context or the Thomson Reuters Foundation.